HOME > SKATEBOARDING
Skatehere 独家专访: "国内最年轻女滑手" New Balance Numeric 汤雅涵 aka "小西瓜"
来自Anthony Claravall的简述:
"我第一次听说小西瓜是从我的朋友Jessica Ryon那边,Jessica曾在上海的Asian Championship结识过她,并告诉我西瓜是一位态度很正而且对滑板有着真正激情的滑手。 在那之后,我就在与Dan Leung还有Jasper Dohrs一起的NB#广州拍摄旅途中亲自见到了西瓜本人。结识新的朋友并在压力下滑板通常不是件容易的事,不过西瓜很快就和队伍里的人打成一块,我就想让她成为NB# family的一部分了。"
Foreword by Anthony Claravall:
"I first heard about Xiao Xi Gua from my friend Jessica Ryon who met her at the Asian Championship in Shanghai. Jessica told me Watermelon was a good skater with a great attitude and most importantly a good heart with a real passion for skateboarding. Right after that I was lucky enough to meet up with Watermelon in person on an NB# filming trip to Guangzhou with Dan Leung and Jasper Dohrs. Meeting new people and skating under pressure isn't always easy but Watermelon immediately clicked with the team and I knew I wanted her to be a part of the NB# family."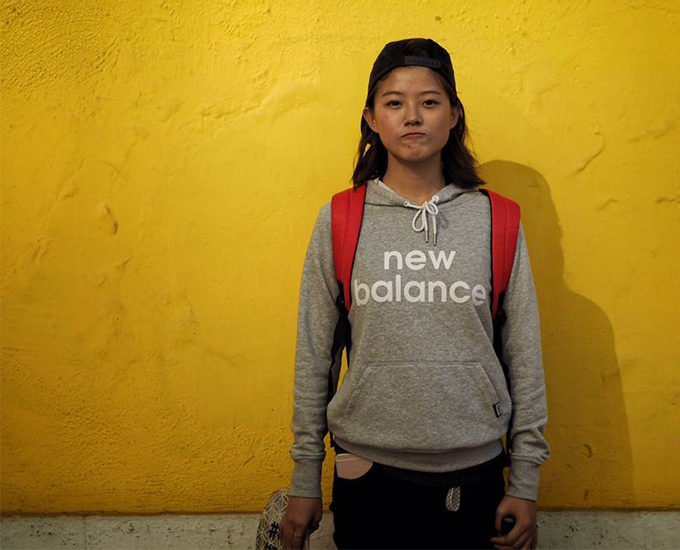 The Lil' Watermelon Interview
Skatehere: 先简单介绍你自己!
瓜:我叫汤雅涵,大家都叫我小西瓜。我来自云南昆明,现在居住在上海。平时的生活就只是滑板。现在的赞助商有Psychos 滑板、New Balance Numeric 亚太区、井捌捌、Skalute。最近和NB team 在深圳、香港拍摄。
Skatehere: Can you introduce yourself for those you don't know you?
Little Watermelon: My name is Yahan Tang, but everyone calls me Xiao XiGua (little watermelon). I'm from Kunming, Yunnan. I moved to Shanghai and have been living there for a short time. My life is all about skating at the moment. My sponsors are Psychos skateboards, New Balance Numeric Asia, #88thespot, and Skalute. I'm on a skate trip in Shenzhen and Hongkong with the NB team right now.
Skatehere: 你是怎样开始滑板的?
瓜:那个时候有一个女生朋友约我出去玩,赴约的时候看她拿了一块滑板,我就看着她玩,自己也想试试,便一发不可收拾,到了晚上我就用自己的压岁钱去那家滑板店买了一块和她一模一样的滑板,我现在还记得那是一块BD的绿色整板。我的板面尺寸一直都是8.0,因为从我的第一块滑板开始到现在一直只用8.0,已经习惯了不想改变。
Skatehere: How did you get into skating?
Little Watermelon: There was a friend ask me to hang out one day and she brought a skateboard with her when she arrived. At the beginning I was just watching while she skated, but then I tried it, and immediately felt into it. I took my Lucky money (Hongbao) that night to the same skateshop and bought the exact same skateboard that she had; I still remember it was a green BD complete skateboard. My deck size since then has always been 8.0. From my first skateboard till now, it has been 8.0 the whole time, I've gotten used to it and don't really want to change.
Skatehere: 滑板给你的生活带来什么样的变化?
瓜:开始滑板之后我体验到了更真实的人生,对我来说这才是有意义的,在一次又一次的跌倒后能完成一个动作真的非常开心。我觉得这就是生活,付出与回报
Skatehere: What has changed in your life after you started skating?
Little Watermelon: I feel that I really got in touch with life after I started skateboarding, things I did had more meaning. Falling over again and again but finally landing that trick is one of the happiest feelings ever. I think that is life, no pain, no gain.
Skatehere: 聊一下你最喜欢的滑手
瓜:国内最喜欢的男滑手是张子杨(ZZY),我非常喜欢子杨的风格,我认为那是一种很独特的野,还有他的墙面功夫很厉害,是我一直想学的。子杨他对每一个人都很友善很热情,会教我很多做人做事。我最喜欢的女滑手是Lacey Baker,她仿佛有一种魔力深深地吸引住我,让我真正地觉得女生也可以和男生一样滑得好,我非常希望有一天能和她一起滑板。
Skatehere: Tell us about some of your favorite skaters.
Little Watermelon: My favorite male skater in China is ZiYang Zhang (ZZY). I really like his style, I think it's unique and original, and he's got awesome wallride tricks, which I gotta learn too! Ziyang's also good a good demeanor, he's super friendly to everyone, he's given me a lot of advice on how to present myself properly. My favorite female skater is Lacey Baker, she has a certain magic to her, which influenced me deeply, and confirmed that girls can skate just as well as boys do. I really hope to cross paths with her one day and skate.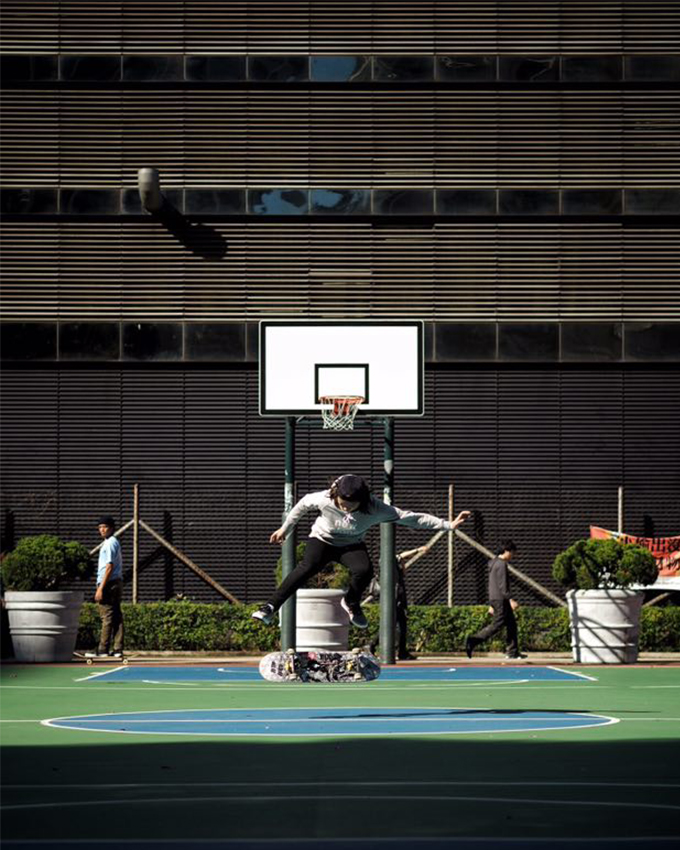 拍摄 Photo by Anthony Claravall
Skatehere: 能分享你在比赛或者拍摄时候的经验吗?
瓜:对我来说独自拍摄是一个需要成功率很高的拍摄方式,可能一个动作尝试20次30次左右没办法成功就放弃了,然后要换一个动作或者重新找一个地形。但是和团队一起拍摄,大家会给我加油打气,会告诉我下一个就成了!最后十个!你可以的!以这样的方式激励我,相对前者我比较喜欢和团队一起滑板,可以一起充分享受一个地形
Skatehere: Can you share with us some of the experiences you've had at competitions or during filming missions?
Little Watermelon: For me, solo filming missions require a high success rate for tricks, sometimes you'll try a trick 20-30 times but not even getting close and either change up the trick or spot. But when you're filming with the team, everyone will hype you up, and tell you that you got it next try, last ten tries, you got it! The vibe is better and that's why I like heading out with a team to a spot to skate and film.
Skatehere: 在你看来,对滑手来什么方面是最重要的?
瓜:我认为对一个滑手来说,无论自己的水平高低,风格好坏,只要自己玩的开心就好,滑板玩的就是心情。没有什么特别的原因让我坚持滑板,我喜欢我就滑,可能有一天我不喜欢了,那也就不滑了
Skatehere: What do you think is the most important thing to know as a skater?
Little Watermelon: I think, as a skater, no matter if your tricks or style is good or not, having fun for yourself is the most important. Skating is all about how it makes you feel. There is no specific reason I have kept skating; I skate because I like it, maybe i will not like it one day, then i will stop.
Skatehere: 你最喜欢做的滑板招式是?
瓜:我喜欢做的动作是尖翻小乱
Skatehere: What is your favorite trick?
Little Watermelon: My favorite trick is Varial Kickflip
Skatehere: 你现在穿的鞋子款式和型号是什么?最喜欢的款式和型号呢?
瓜:我现在穿的鞋款是NB Numeric 598,最喜欢的应该是505,他们总会帮我在鞋跟的位置印上一个西瓜的标志,类似于定制款这样,其实NB Numeric 的鞋款我都非常喜欢。我觉得一双鞋子最重要的是舒适度,只有穿起来舒服才能滑的舒服,当然外观也是少不了的
Skatehere: Which type of shoes have you been wearing, which ones are your favorite?
Little Watermelon: Right now I'm wearing the NB Numeric 598, but the 505 is my favorite, NB always marks a small waterlemon logo on the heel, so it's kind of like a limited edition shoe for myself. I actually like all the NB Numeric models, I think the most important part for a shoes is its comfort. You feel comfortable on a skateboard is if you're comfortable with your shoes. That, and for sure it's got to look good as well.
汤雅涵 – 10 tricks
Skatehere: 你喜欢的音乐风格和着装类型是什么?
瓜:我喜欢的音乐风格是偏向电子音乐的Trap和House。偏爱的装备是T恤搭直筒裤
Skatehere: What is your favorite music kind and clothing style?
Little Watermelon: I'm into Trap also House music and I like wearing a simple T-shirt with straight trousers.
Skatehere: 你在滑板这条路上未来的计划和目标是啥?能分享给其他滑手的一些关于滑板的想法吗?
瓜:我现在的第一个目标是成为国内的职业滑手。我想和女滑手们说,怕痛怕摔就戴护具,如果真的喜欢就一直滑下去,不要每天都只想着拿赞助,少说话多滑板,用实力证明,不要骄傲也不要浮躁。风里雨里上海等你!❤!
Skatehere: What is your plan with skateboarding in the future, do you have any words to share with other skaters?
Little Watermelon: My first goal for now is to become PRO (professional skater). I want to tell the girls, if you afraid of getting hurt and falling over, just wear protective gear! If you really like it after that then keep skating, don't think about getting sponsors all the time.  Talk less and skate more, prove yourself with skateboard, don't be cocky and be patient. I will be waiting for you in Shanghai throughout the wind and rain, Peace!
-
Interview by Tina
Post By: wolfhowl @ 四 06, 2017