HOME > NEWS
Yeti Presents: 3/12 圣帕特里克节派对 St. Patrick's Day Fest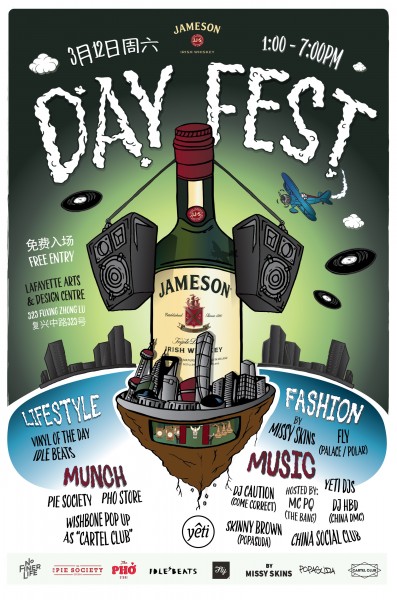 今年3⽉12⽇,YETI OUT将再次与爱尔兰最具影响⼒的威⼠忌品牌Jameson Irish Whiskey一起
庆祝⼀年⼀度爱尔兰最重要的文化节日 — 圣帕特里克节!
当天将由DJ现场献上从soulful house到funky beats的完美律动,你可以逛⼀逛FLY Streetwear和 By MISSY SKINS的Pop-up店铺,品尝Pie Society, Pho Store和Wishbone特设"Cartel Club"⻛格各异美 食,3个Jameson Bars持续供应酒水。
Vinyl of The Day和Idle Beats也将现场设立经典老唱片售卖摊位和现场丝⺴网印工作室,3⽉月12 ⽇日YETI OUT盛邀上海当地的创意人群聚集在一起来到Lafayette Art & Design Centre,享受⾳乐,时尚,艺术,美食和美酒的文化狂欢节!
Once again, Jameson Irish Whiskey is teaming up with YETI OUT to celebrate St. Patrick's Day and Shanghai's local community.
Join us in Xintiandi for DJ sets from the city's finest crews playing some soulful house and funky beats, plus fashion pop ups from FLY streetwear and By MISSY SKINS. Stay hydrated with 3 themed bars pouring smooth Irish whiskey throughout the venue, Vinyl of the Day pushing classic wax swaps and live screen printing from Idle Beats. Food is covered with Jameson-inspired munchies from Pie Society, Pho Store, and Wishbone's one-time Mexican pop-up titled "Cartel Club!" A Jameson custom fixie bike is up for grabs on the day in our St Patrick's Day Challenge – scan our QR code to find out more!
Expect a block party style day fest even better than last year's at Lafayette Art & Design Centre on March 12th!
关于圣帕特里克节
3⽉月17⽇日圣帕特里克节,是爱尔兰的国庆日,起源于纪念爱尔兰守护神圣帕特 里克,在古代,他负责赶爱尔兰所有的蛇(当时,圣帕特里克很可能手里正 拿着一杯加冰的尊美醇。)每年世界各地的爱尔兰人都要庆祝爱尔兰文化与传统,通常在这一天,各种各样庆典活动配搭爱尔兰传统绿色装饰、特色音乐等,当然,也少不了优质的爱尔兰威士忌。作为著名爱尔兰威士忌尊美醇则希望可与所有⼈⼀起庆祝,分享纯正的爱尔兰精神与文化,品尝经过三次蒸馏、⼝感倍加顺滑的威士忌。今年,在3月17号的时候,与朋友相聚举起一杯尊美醇,道一声'slainte'你的爱 尔兰精神。
The 17th of March is St Patrick's Day; Ireland's national day honoring our patron saint, St Patrick, who back in the day was responsible for driving all of the snakes out of Ireland (most likely with a Jameson on the rocks in hand).
Every year Irish people all around the world celebrate Irish culture and heritage. Usually this day causes all sorts of festivities, greenness, music, and of course great whiskey. As an Irish Whiskey, Jameson loves to share our authentic Irish spirit and character with everyone and join in the celebrations with some triple-distilled, twice as smooth whiskey.
So, this year on the 17th of March raise a glass of Jameson with friends and say 'slainte' (slawwn-cha) (which means 'good health' in Irish language), and embrace your Irish spirit.
关于尊美醇
尊美醇是爱尔兰威⼠士忌的主导品牌之一,其独特的双倍顺滑口感和品牌风格为尊美醇的粉丝所喜爱。通过三重蒸馏形成双倍顺滑⼝感的⽅法最早出现于1780年 的爱尔兰。尊美醇巧妙地融合了已经发芽及未发芽⼤麦的自然风味, 壶式蒸馏和谷物威士忌的辛辣和香甜, 坚果、 香草和烤木香味则来自于雪莉和波本箱⽊桶。
Jameson Irish Whikey is the world's leading Irish whiskey, loved for its great smooth taste and style. Triple distilled to deliver twice the smoothness, a practice established in Ireland in 1780, Jameson combines the natural flavours malted andunmalted barley, the spice and sweetness of pot still and grain whiskes, and the nutty, vanilla and toasted wood notes from Sherry and Bourbon casks.
关于Yeti
2010年成⽴于伦敦YETI 是⼀个致⼒于推进新锐音乐与生活方式的创意团体,如今分布在伦敦、上海、香港、温哥华,旗下的音乐平台 YETIOUT热 衷于发布和推⼲广另类前卫的音乐,同时在各大城市投下一场国际化时 髦⾳乐派对,为年轻⼈带来天才音乐家FKJ,BBC Radio 1元老Benji B,Jay-Z御 ⽤制作人Young Guru,Jersey Club音乐先锋DJ Sliink,HBA品牌女⾳乐⼈Venus X、 美国说唱团队Flatbush Zombies,以及Soulection厂牌旗下音乐⼈等精彩现场演出. 上海和香港是YETI在亚洲地区的主要据点,除了国际音乐人的巡演,我们也受邀为W Hotels, HYPEBEAST和adidas Originals组织策划活动,协助公关项目或企划音乐相关内容。 YETIOUT是一种⽣活方式,是⾳乐和潮流的制造者与推动者。
YETI is a creative collective that originated in London in 2010. What started as music curation in night clubs lead to festival showcases from Hong Kong to Vancouver, working with live acts like FKJ, BBC Radio 1′s Benji B, Jay-Z's sound engineer Young Guru, and Jersey Club pioneer DJ Sliink.
In Asia, we focus on Shanghai and Hong Kong's markets, primarily debuting international acts on tour. While organizing events, PR & music consultancy for the likes of W Hotels, HYPEBEAST, and adidas Originals, we are always excited for the next taste making project!
———-
Post By: wolfhowl @ 三 08, 2016